Link to part 1 - Friday

Link to part 2 - Saturday

Link to part 3 - Costume contest on Saturday evening

Part 4/4 - Sunday

On Sunday, we went to get our autographs first thing in the morning. While waiting for the stars to arrive who were running a bit late, we chatted with one of the volunteers. He told us a fun story about another Starfury convention which was madness. As soon as he would stop walking just to catch his breath, a line would form behind him and then people would ask: "What are we queuing for?" – "Don't know, I am just standing here!" LOL

When we finally were allowed into the room, as a nice extra we got a Torchwood poster which you could use to get signed. I always let the pictures I take with them signed though and got some funny comments about the poses.

Then it was time for the "Lust for Love" screening. Before and after Dichen talked a bit about the movie.
Poor girl was so cold, she was wearing her coat on stage.

Soon it was time for Kai Owen's panel.




He had been given a solo panel but at the meet and greet Gareth had announced that he planned to crash it, and so Kai was only on stage alone for five minutes or so before Gareth arrived. The two guys together were also very funny. They all play so well off of each other, with one having a thought and the other finishing it. You'll see soon what I mean.

Each had a beer in their hand – Kai in a glass, Gareth drank straight from the bottle – and after an Austrian girl had invited them to some famous beer festival in her hometown, there was a lot of beer talk. No matter what the question was, they would always return to it LOL So, someone would ask a question, and one of them would start to reply, but the other interrupted with: "…. is also a nice beer." And then the other would agree and so on. It was hilarious.

Picture by Julia Quarks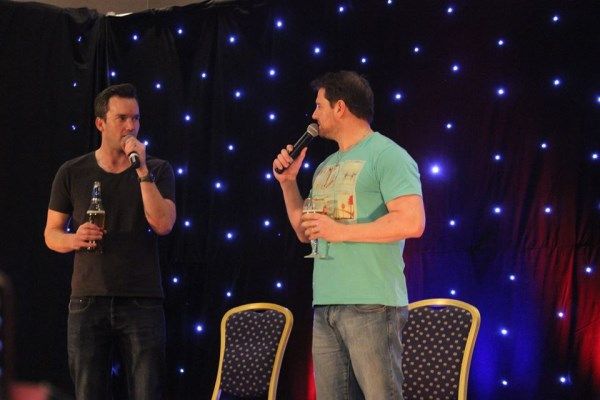 They showed a bit of a video Kai and Eve had done for Sean. They were punching each other all the time, like a real stunt fight. Very good! You can see these scenes here: https://www.youtube.com/watch?v=ZFIM_35-Xr0


Several questions also were about what they would like to see in a Torchwood season 5. Naoko was sitting somewhere in the audience as well, and always cleared her throat very loudly since for some reason they forgot to mention Tosh while listing all the characteres they wanted to see back ;)

Later she also told us that she would love to play an evil twin of Tosh or maybe her from an alternate reality, anything to bring the character back. She also had enjoyed that one episode "Adam" where she played her a bit differently. So, "Tosh with cleavage", that's what she would like to play.

Kai and Gareth also dissed PC Andy a lot ;) Tom Price was not there so could not defend himself against all the accusations. I don't remember anything specifically, but they told about all sorts of stuff they would do for the fans and then: "Tom Price would never do that." LOL




And then there was the girl that thought it was a good idea to have Jack pregnant in the first episode of season 5. After all, in the pilot he mentioned that he once was, so it should be possible. Kai and Gareth liked the idea as well, and the next thing we saw was them acting out the scene. Kai sat onto the chairs with his legs wide open, and Gareth crouched under the chairs and then came out with a "Ta-daaa! Ianto has been reborn!" We roared with laughter.

Gareth's comment? "I was born out of John Barrowman's arse – it was an easy ride."

Also about Torchwood in 50 years: "We'll all look like the Face of Boe, except Barrowman, he'll still look the same!" Who needs enemies when he has such friends? LOL

Later Naoko went onto stage as it was her time, and both guys got up and left through the door at the side. Poor Naoko looked after them: "Don't leave me alone!"





But they probably had more important things to do. But before they left, Gareth told the audience to not ask Naoko any questions about Harry Potter, Game of Thrones, Children of Earth, Miracle Day or the TARDIS. Then he was gone.

Picture by Julia Quarks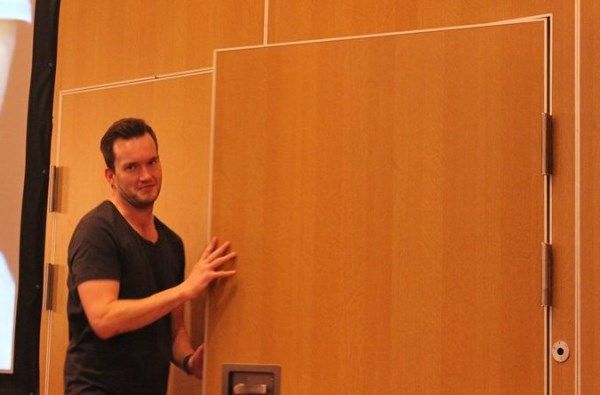 But in the end, Naoko on her own was lovely as well, and she has had some interesting projects recently, like the one about the Mount Everest.

Suddenly, you could hear a very posh voice ask: "In the fantasy adventure series Harry Potter which of the Hogwarts teachers would you be?"

Every head turned, and who was standing at the microphone? Gareth! LOL And he kept asking questions about Game of Thrones and Miracle Day and in the end complained that none of his questions had been answered and he wanted his money back.

He had waited in line like everyone else, I already had spotted him well before he reached the microphone: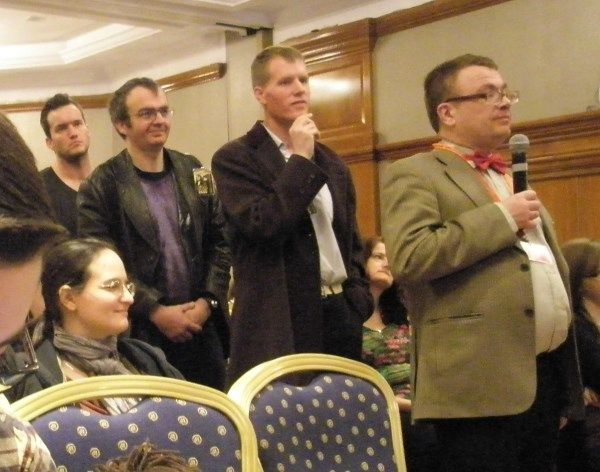 Later he was also joined by Kai there: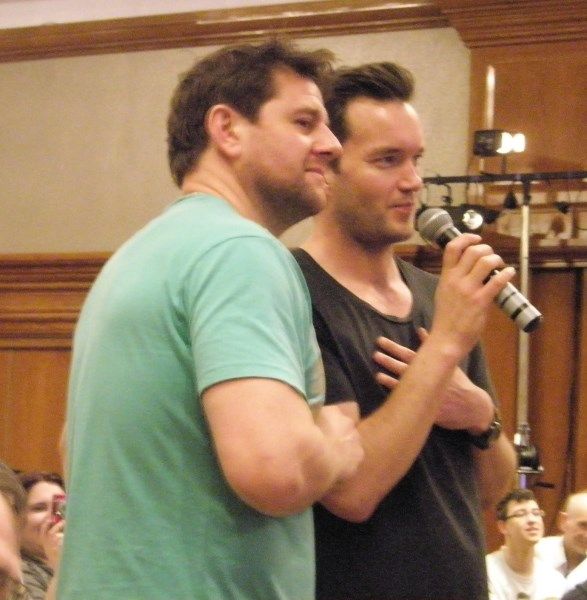 Then Kai took pity on Naoko and joined her on stage. And he teased her all the time. When someone wanted to know what they would do if they had only 24 hours to live, Naoko said: "Punch Kai Owen!" and he replied that she would then die because of that LOL

Picture by Julia Quarks



In the end she got her wish though, and he presented his backside for her to punch, and she did but immediately apologized and asked if she had hurt him and he acted as if he was REALLY hurting and sat down onto the chair very carefully with a scrunched face LOL

Picture by Julia Quarks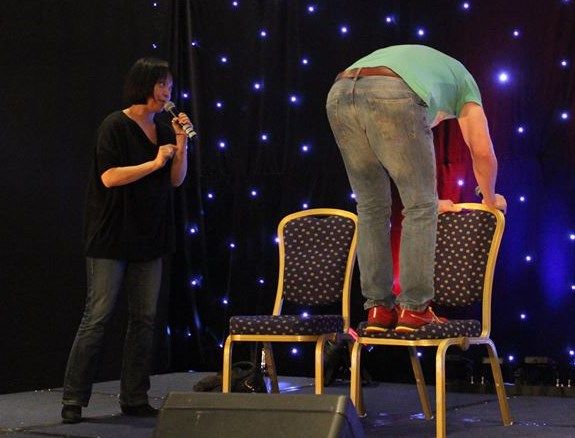 Picture by Julia Quarks



Also, this funny guy from "Avenue Q" suddenly showed up and talked with Naoko and even sang a song: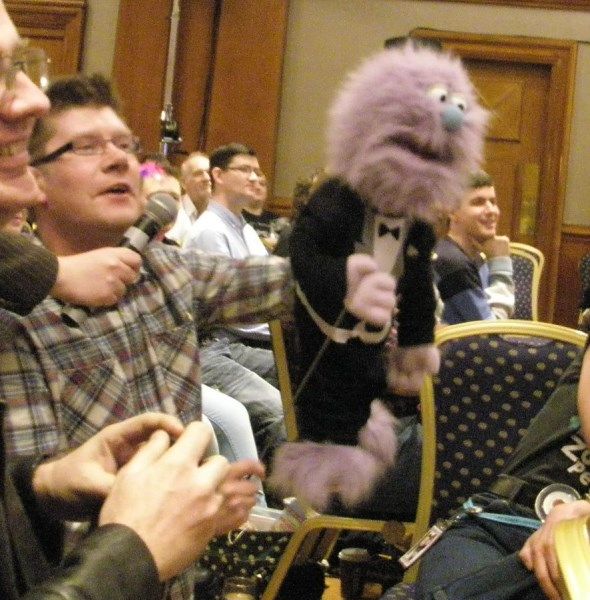 Then this hour was also over, and technically it was now Eve's and Gareth's panel.





But Kai only shortly left the stage and then came back, and they all spotted Naoko down in the audience again and asked: "What are you doing down there? Come up!" and so we were treated to a panel with all four of them together on stage. To hell with the schedule. By now Sean just let them do whatever they wanted – as that's what they did anyway LOL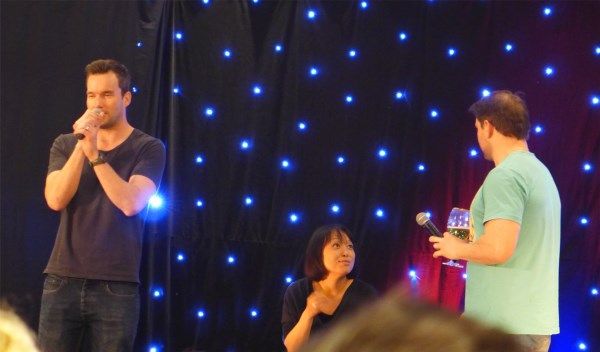 Picture by Julia Quarks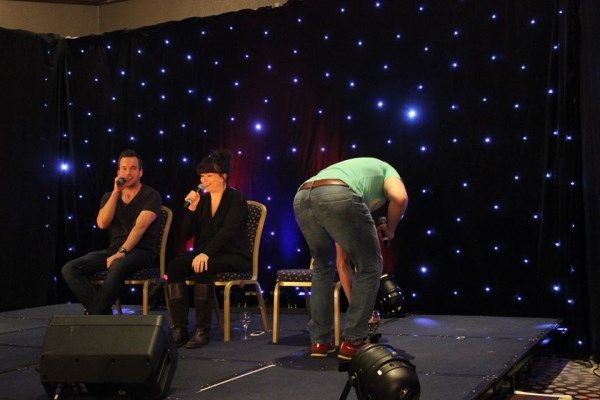 So, if one of them is already funny, and two of them together almost unbearable, you can imagine what happens if that multiplies again. I have no idea how exactly it happened but somehow everyone had ended up with a beverage, and a sort of game started. One of them would say a sentence like "I have never been in a dark corner with John Barrowman's balls" or "I have never been touched in places by John Barrowman's and didn't enjoy it" and then everyone for whom it was a lie had to drink. I can tell you, they drank a lot ;) It was really funny to see how sometimes all lifted the glasses at once.

Other important things we learnt in this hour was the most embarrassing thing that has happened to them. Kai Owen once got sick over someone, he really puked at him. Naoko said she was good at "tripping over nothing".

Another question was with which TV series Torchwood could do a crossover. Some very good ideas there, like "X-files", "Warehouse 13", "Being Human".

The PC Andy dissing continued as well. Apparently both Gareth and Naoko had no idea that he had been in "Miracle Day" ;) Whenever this last season was discussed by those that were actually in it, like Kai and Eve, Gareth and Naoko pretended to be bored:

Picture by Julia Quarks:




Eve also told the story how they asked her if she could ride a bike and she said yes, never having ridden one. She learnt it in half an hour, telling them that she was not familiar with this very model and if they please could show it to her ;) Then she went and did that scene where she blows up the ovens.

Kai also was impressed by that scene from the first episode, at the beach, and he actually was proud that the beautiful Welsh coast would feature there so heavily. John was driving the car himself when they were chased by the helicopter, he did not let any stuntman do it. And it was so freezing cold that they had to kept checked for hypothermia actually. The famous scene when Gwen fires the rocket and says "Torchwood!" her lips were so frozen that only "Twwd" came out ;)

They also told the famous story from the pilot again, Eve and John alone in a hospital, being bored and somehow they ended up photographing his balls and then sent the picture down the tube mail. It ended up in the maternity ward. They actually sent it back with some words added, that it was a nice picture and "come visit us soon" ;)




To go to the Torchwood set they had to go through the TARDIS all the time. Nice way to work!

What would Eve do if one morning she woke up as a man? "Call John Barrowman!"

At one time Naoko sighed: "Now you see what I had to put up with all the time!" Poor girl LOL

I also have a quote I have no idea whom it belongs to, but could be Naoko as well: "If you are involved with a character in a TV show it means you get more lines."

They also played the birth scene again, this time with Naoko as the midwife. Kai was calling for Eve to hold his hand, but she just stood at the side, shaking her head ;)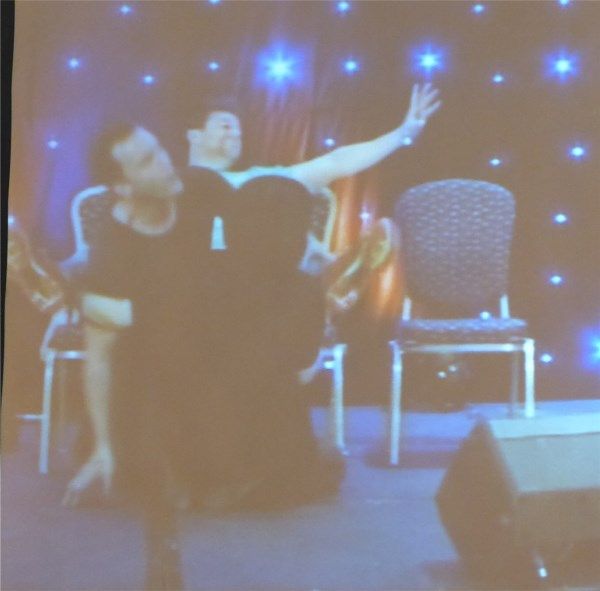 They also had given a lot of thoughts about how the series could come back. Apparently none of them is ready to let it go yet. Kai wants it to get back to Cardiff, and reassemble the Hub somehow. Loud cheers from us. And they want PC Andy to die and Jack sings "My Heart will go on" at his funeral ;)

And Kai had the idea that we all should write the first episode for season 5, and send the script in to his page. Next year they would try to get the whole gang together and they would read the best scripts on stage. If you want to participate, send your stories to webmaster@kaiowen.com


Then it was time for the closing ceremony. Sean said that with other fandoms, as soon as they are off the air the fans go away but with "Torchwood", even so many years later, the fandom is still strong.




One by one they came onto the stage again and gave us a last word of advice. Gareth's was: "Don't buy the Torchwood set props at online auctions. You have no idea what John Barrowman did to these. He humped everything."

He also said: "You guys deserve more Torchwood!" And Kai added: "You want more, ask for more!" Well, this is the official petition about it. Go and sign it! http://www.change.org/en-GB/petitions/danny-cohen-make-another-torchwood-series




Naoko promised that till next year she will read Harry Potter.





Oh, and as for this Hollywood convention? In the end, John was only there on Saturday, as he had unexpected work to prepare on Sunday. Which is interesting, as I guess I never pictured him to actually sit down and learn his lines. Which he surely does like every other actor. I probably expected him to just show up at the set and know them magically LOL

But no, he had to leave the con and go back home to do his homework. So, in the end, I think we got the better deal.

But I definitely look forward to next year and hopefully the complete team on stage together! I might die laughing then, but at least it will be a happy death.






The End

Many thanks to Antje and Julia for allowing me to use their pictures for this report.