My shiny new locations tag gets an outing ;) Today I finally sat down and checked out "Galavant". Why is someone like I, who has not even an remote interest in medieval times, watching a show like this? Well, as usual, it has to do with John Barrowman. Some months ago someone said on Twitter that he would be great in that show, and he replied that he actually auditioned for it but they didn't want him.

Huh. Was the first I heard about this at all. We then tried to imagine whom he may have played, someone suggested King Richard. Having seen the guy in action now I think that would have not worked. He's perfect. Also, let's face it, John would never be able to grow the required beard ;) But maybe he could still come in next season for a guest part. Who knows.

So, today I watched the first six episodes straight away (they are only 20 minutes each) and had the greatest fun ever. Catchy theme song going straight to your head (Gaaaa-laaa-vaaaant!), great songs and dance numbers - no wonder, the music was done by Alan Menken, who did my favorite Disney movie "Beauty and the Beast". I digged (digged? dugged? dug?) the monks and their Barbershop routine! A cappella FTW!

I know I talked about this with someone before - was it you,
sgamadison? Back then I assumed that John and his "movie idol looks" would have not fit in with all those medieval men with bad teeth and rugged faces - I see now how wrong I was ;) Good looking people all around ♥ Leading the way Galavant himself of course. Nice voices, really funny modern and (for medieval times anyway) unique dialogues - love King Richard and Gareth! I was chuckling all the time. And in general I simply adore the English accent. And where do they keep finding those locations?

Oh, and lots of familiar faces ;) Vinnie Jones already had been a fan favorite in "Arrow". Ben Presley was in "What we did on our holidays" although I don't remember him at the moment. There also was John Stamos, whom I haven't seen since "Full House". Some insiders may know Luke Youngblood from some Harry Potter movies. The pirate king was well known as well - Hugh Bonneville from "Downton Abbey". And Sophie McShera who plays Daisy on the same show. And that's just the ones from the top of my head. Edit: Hey, and episode 3 finally has a Doctor Who face - I knew I only had to keep looking long enough. Michael Brandon.

But let's come to why we are actually here: Locations! So I watched the first episode, and two minutes in, seeing this: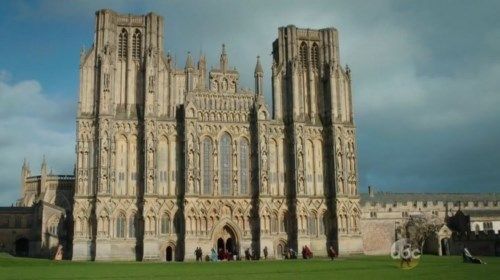 I shouted: That's Wells! Recognized it right away, and I have the picture to prove I was there. See?




And as soon as this unique cross-bow comes into view, you definitely know it's Wells Cathedral. The "Doctor Who" episode "Lazarus" was shot there as well - apparently only three weeks before I was there back in November 2006. But I wasn't a fan yet at the time.




So, who else is having fun with "Galavant"? And if you haven't known about it yet - maybe I can also be that person infecting you for a change. Why should it always be the other way around (yes, I am looking at you,
elisi ;)