Previously - Part 2: Moving to the Sheraton, many goodies and a surprise

This entry is about the dinner with Richard Dean Anderson, which only 80 out of 300 people could attend, the things that we talked about with him at our table and finally some pictures of Mr. A!

Part 3 - Dinner with Richard Dean Anderson

First we all went to the buffet and got some nice stuff to eat (there also was a second table with various desserts – btw., do you know how to be able to tell the difference between desert and dessert? Dessert has two ss because you always want two of it). Soon afterwards Richard Dean Anderson got introduced and came into the room, wearing a black leather hat. What a surprise. Here are two pictures by Penjab: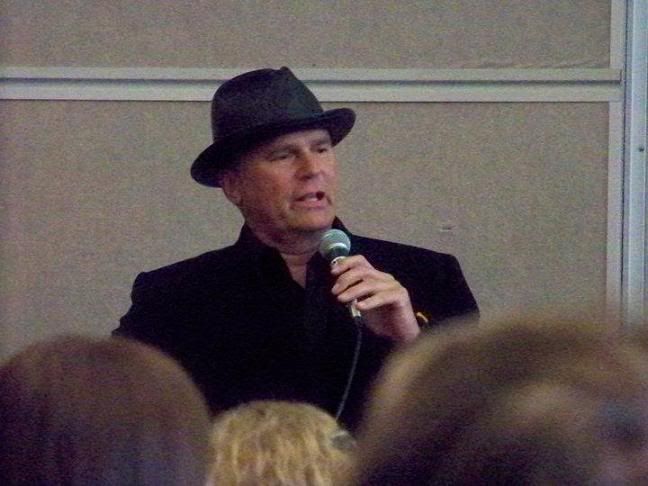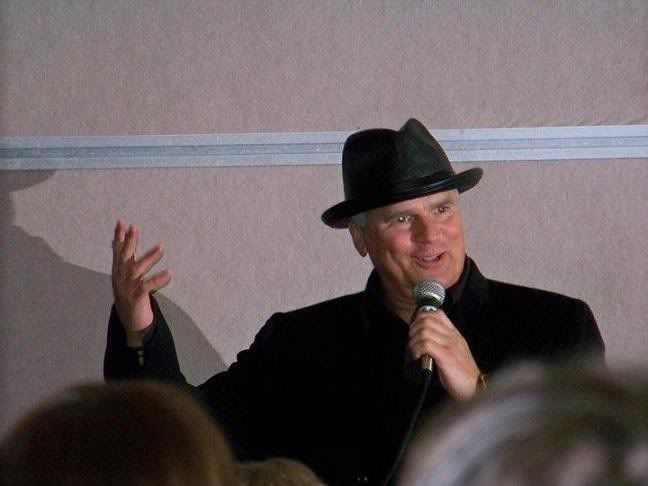 From far away I first thought he looked like my grandfather, but over the weekend I kinda got accustomed to it. At least you always knew where Rick was when you had lost him from sight! Plus apparently it was given by Wylie to him so that's why it was special to him.

We all noticed that he again had lost some weight - you could see his cheekbones again! There were a lot of people who commented on that, so I guess the cheekbones have been badly missed. He looked really good!

Rick started with telling us that almost he wouldn't have made it. Apparently he stumbled about the long bag with the coat he was holding in his hand at the airport, and fell down. But some kind person helped up the "old fart".
Anyway, we were glad he had arrived, and he started his round on the table right next to us. Later Becky came and told us we would be next. Oh my. Paya was sitting right next to him, and I was next to her, so in quite a nice close distance.

Rick at our table

He asked where everyone was from and if we knew each other. And that the weather in Vancouver was very hot and humid at the moment. I was thinking, great, here we are sitting with Richard Dean Anderson, THE Richard Dean Anderson, we only have mere minutes and all we talk about is the weather ;) He mentioned a shorts shop, so maybe he bought the shorts he wore the other day in Vancouver? He also said "I don't drink" at one point. Plus, referring to the fact, that he did not wear a tie: "I don't even own any" (which can't be true, we have seen him with ties before when he was younger ;)

Then we talked a bit about vacation in Vancouver. The British couple next to me had been to Lynn Canyon Park the day before and Rick told us about how he had been hanging there from the suspension bridge for an episode of "MacGyver". Then, when we unisono shouted the name of said episode and he realized that this probably was EXACTLY the reason they had gone there in the first place, he shook his head and muttered: "Who am I trying to impress". He also told them they should try the Grouse Grind and from there the discussion went to the "Quench the Fire" walk/run.

It was a nice talk to which everyone at the table could contribute, not like "Avalon" where only one lady spoke to him all the time and the others didn't get a word in.

Near the end he looked right at me and said: "You have been here before!" which I took as my cue and replied that yes, I had been the one showing him the action figure book last time. He remembered and we quickly showed him some of Payas work, Jack with the bike and such.

Alas, this was the moment the talk was over and we were ushered to pose for the group picture – a picture of all people on the table together with Rick. I won't post it here for privacy reasons, though.

After Rick left my eyes followed him around the room to the other tables, and quite often we had a very good view onto his face. Here are some more pictures by Penjab: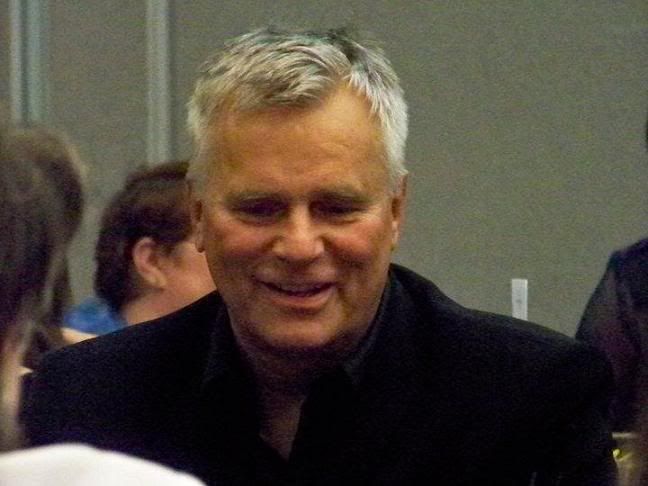 And a few I did myself – they are a bit grainy since I only have a little camera and no big zoom, but I couldn't help myself trying anyway: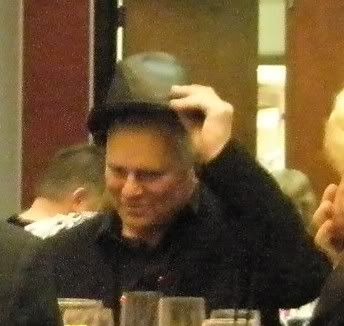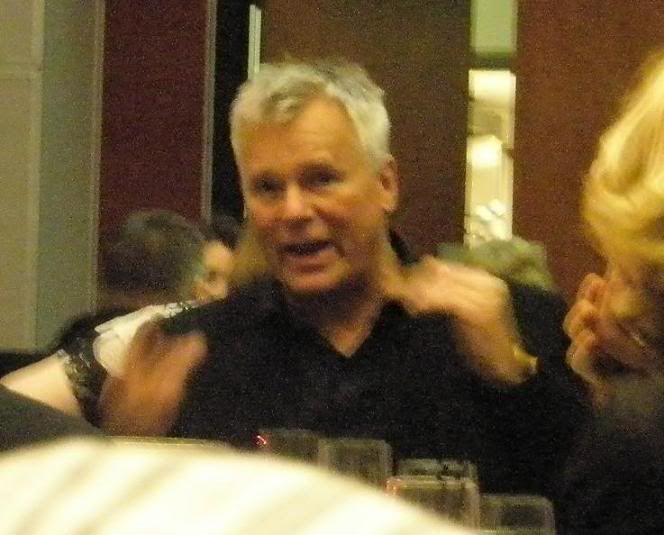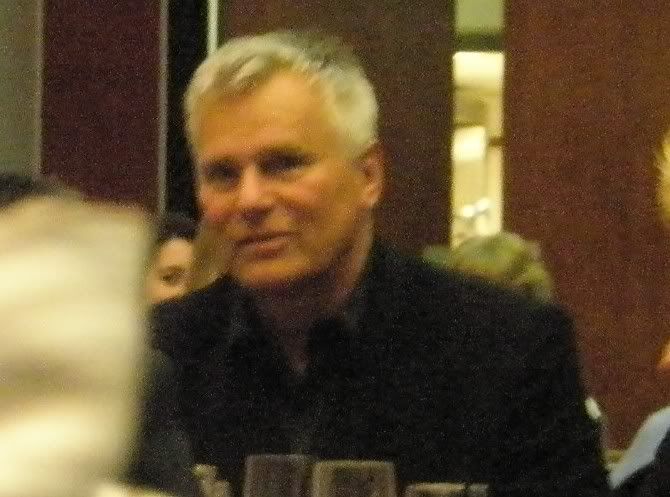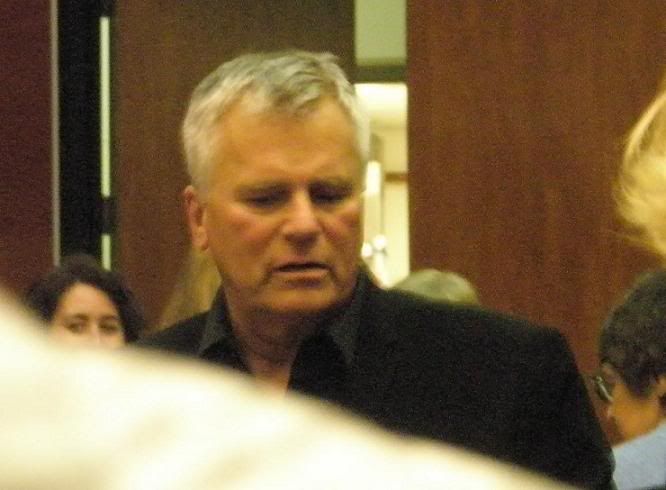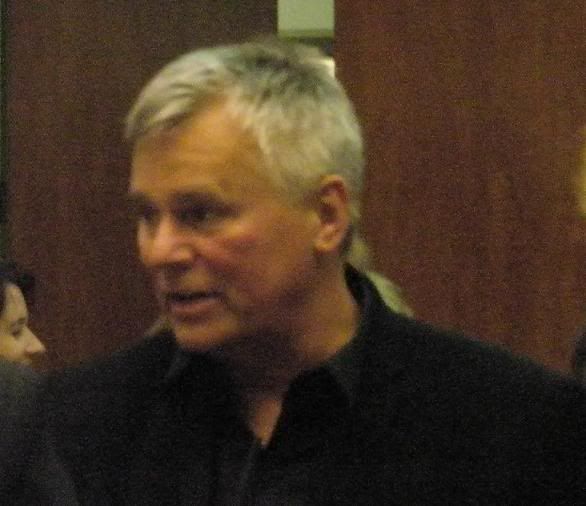 Next - Part 4: Dan Shea, Barry Campbell and Paul Brown at our table
.
.