Today was the #Shakespeare400 celebration, with lots of things happening all day long. Shakespeare died on this exact day 400 years ago.

I've just watched the BBC gala, moderated by David Tennant and Catherine Tate, and with guests such as Benedict Cumberbatch, Ian McKellen, Helen Mirren, Judi Dench and lots of others. Loved the scene where all actors that have already played Hamlet couldn't decide how to pronounce "To be or not to be". And that monologue by David at the end - he really knows how to make the language alive and not complicated at all and it is just a joy to listen to him. There was music from a live orchestra and ballet and opera and rap and everything in between. Great show. And now I can't stop singing "Brush up your Shakespeare".

To join the celebration, I want to re-post the link to the Hamlet I have done some years ago, together with a friend, with action figures of Doctor Who, Torchwood and Primeval. We re-created the theatre play with David Tennant, I even changed the Tenth Doctor into Hamlet. Please look at the complete story with explanations here: http://dieastra.livejournal.com/28212.html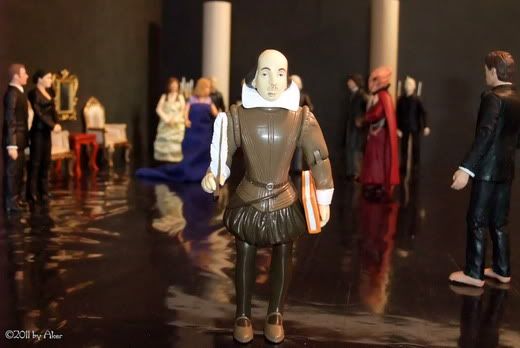 PS: Seems I have another Tumblr hit here as well. 68 70 73 notes already since I posted it a couple of hours ago, and a lot of re-blogs also.