I'm back from a weekend with lots of friends and lots of action figure theater, and can't wait to show you all the new pictures we made. But first, pimping this new action figure theater community - we're only starting, but I'm sure there will be lots of funny (Multifandom) entries there! So many creative people out there...
Ich habe ein wundervolles Wochenende mit meinen Freunden und jeder Menge neuer Actionfigurenfotos hinter mir. Kann es kaum erwarten, Euch alles zu zeigen. Aber erst einmal möchte ich Werbung machen für eine neue Actionfigurentheater-Community. Dort haben sich alle versammelt, die auf sehr kreative Art und Weise Geschichten mit Figuren erfinden. Schaut Euch um, und wenn es gefällt, kommt wieder! Nicht nur Stargate, Multifandom.
Here is the link /
Hier der Link:
http://community.livejournal.com/action_tales/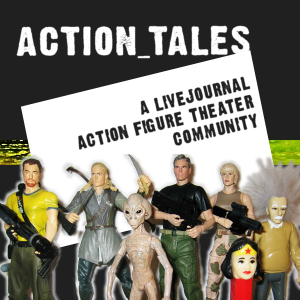 And now on with the episode "Brief Candle":
Couldn't resist making the famous scene right after Jack and Kynthia had gotten very close. Kynthia fell asleep and Jack grabbed some cover:
Eine berühmte Szene aus der Episode "Die Auserwählten" - nachdem sich Jack und Kynthia sehr nahe gekommen waren, schlief Kynthia ein, und Jack griff nach der nächstbesten Decke:
I just love those little dog tags!
Sind die kleinen Dog Tags nicht niedlich?
The next morning he had some kind of hangover and put his head into the well, to get rid of it:
Am nächsten Morgen hatte Jack eine Art Kater, und darum steckte er seinen Kopf ins Wasser des Brunnens:
Please note the detail we put into this picture - there was a jar standing at the edge of the well, and in the well were water lilys, and Jack just had putten down his sunglasses, you can see them next to his hand:
Wir haben uns viel Mühe mit den Details gegeben - dem Krug, der auf dem Brunnenrand stand, die Seerosen im Wasser, und man sieht auch die Sonnenbrille neben Jacks Hand, da er sie gerade abgenommen hatte: