As I learnt today, the castle in the new Disney movie "Cinderella" was inspired by our Zwinger here in Dresden! They did not really film there, but photographed all details and then created the castle in the computer, also added another floor to make it look more impressive. Still, you can see what inspired them. Here is a comparison picture: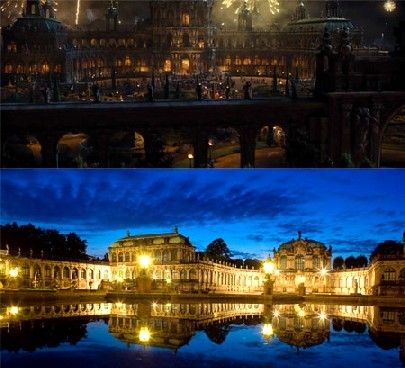 Another picture in the daylight:

In recent years, a lot of Hollywood movies have been filmed in Saxony. We are rich on beautiful landscapes and historical cities. A few recent movies were "The Grand Budapest Hotel", "The Reader" and also "Cloud Atlas".
Also, back in 2002 when we had that bad flood, someone filmed it and it was used to generate the flood in "The Day after tomorrow".
And now we even have the Cinderella castle and I can walk through it every day if I like. Come and visit me and I am showing it to you!
Even the Doctor has been there: