Finally! It took a lot of effort but was so worth the trouble. I actually called to the UK and ordered two paper copies of the Ipswich Star newspaper with my friend Julie Shofner and myself in it. It's right on top of page 2 if you turn the title page.
The paper version is only an abridged version of the online article, which you can read here:
http://www.ipswichstar.co.uk/what-s-on/news/fans_from_around_the_world_follow_doctor_who_and_torchwood_star_john_barrowman_to_ipswich_1_4088688
So I can say now I have been interviewed by the same newspaper like John Barrowman ;) If the picture I posted is too small for reading, try this link for a bigger version:
http://i137.photobucket.com/albums/q227/DieAstra/Cardiff%202015/SKMBT_C22415062913340_0001.jpg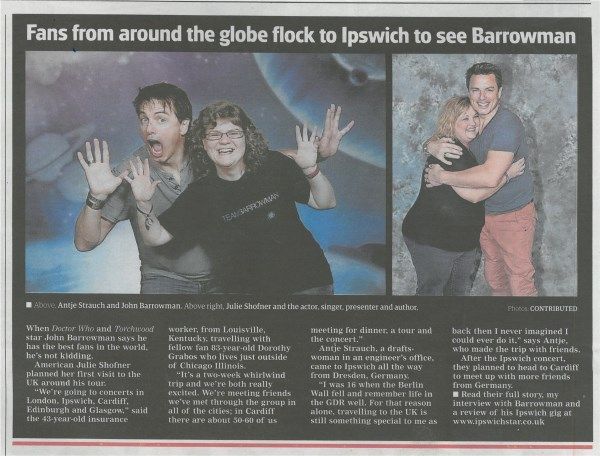 Oh, Julie also was so kind to let the online version print and let it sign by John after I had already returned home. What a nice gift. And apparently John commented that he had seen and read it. He really sees everything. How does he do it with his busy schedule?
I think it's time for a new tag. Introducing the
I'm famous
tag. Covering me being in newspapers and TV, displays of figures in magazines and being retweeted or replied by Barrowmans. Can't find the Christmas stories that were published in my local newspaper right now, I shall add them later. And probably the story of the author of a Götz George biography that once called me...