My birthday started at 4.15 AM with my mother singing "Happy Birthday" through the phone. Then my brother came over and together with Sula we caught the train at 6 AM. It was very misty at the time, but in Berlin we had sunshine. The flight was still almost 45 minutes delayed since they didn't finish the check in in time and we could only leave after all people had arrived in the plane.

In Amsterdam there was a long line at the passport control. No wonder since the guy liked to chat to people – he asked me in German whether I had any Dutch relatives, because my name Antje is a Dutch one actually LOL. We reached the plane to Cardiff just in time. What a huge airport Schiphol is! We drove quite a while by bus to reach our plane, and then the plane itself also rolled for 15 minutes or so to the runway!



Has anybody landed by plane in Cardiff before? The way you have to go to the exit is covered with many facts and infos, like the Welsh coast being … times longer than this walk and it all is written both in English and Welsh. Very nice welcome!

After most people had gotten their bags at the baggage claim some suitcases that didn't seem to belong to anybody were making their rounds, including a banjo. The security guys let some dog sniff at them and then took them away. What didn't show up was Sula's bag. So we had to fill out a form and the guy at the counter promised it would be brought to the hotel the next afternoon. He also rolled his eyes, saying "Schiphol" as if that would happen quite often.

So, without bag to the bus (number X91 I believe). We had informed ourselves ahead in time and so had the £ 4,20 ready in coins (because they don't do change). Unfortunately we had arrived in the rush hour, so going to the city centre took a while.

The central bus station isn't that far from the Holiday Inn where we stayed, so we just walked. For anyone that has been to Cardiff before – it is on Castle Street, right next to the castle. And it had a room big enough for three people, which other hotels nearer to the International Arena couldn't provide. We had one double bed and a couch, where I was sleeping, and there even was a fourth bed under the couch which could be rolled out.




Had some trouble to figure out how the toilet works, though. When pushing down the lever only little water came out and there was not enough pressure to really flush stuff away. We were later told that you need to push it twice quickly, but even that didn't work well. This Welsh toilet and I didn't become friends during my stay over there ;)

The hotel had provided Sula with some tooth brush and comb, but we needed to do a little shopping of course. Queen Street has some shopping arcades. While Sula was searching for some clothes my brother fell in love with the little houses they sold there. They are from a company called Lilliput Lane and made after all kinds of real Welsh cottages or castles. I didn't photograph them but if you are interested you can have a look over here, there are some pictures (scroll down):
Lilliput Lane cottages

They look really great but buying only one of them is really not enough, you need to start a whole collection. Anyway, my brother lost his first thirty something pounds that first evening for the Ferry cottage.

Then it was finally time and we caught the bus number 6 – the Bay line – down to Cardiff Bay which has been seen often enough in many "Torchwood" episodes and in some "Doctor Who" ones as well. At the famous Water Tower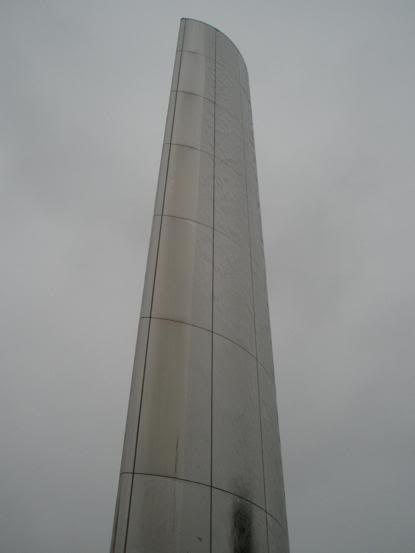 were two people sitting on a bench waiting for us – Giotto and Ranvaig. I hadn't seen them for three years so there was a big hello and much hugging – and what's nice, the chatter just starts where it had stopped the last time. It was great to see you guys again!

So, of course some photographing was due, the Millennium Centre (where Jack had stood on the roof once ;) ) was nicely lit, as well as the columns around the Roald Dahl Plass.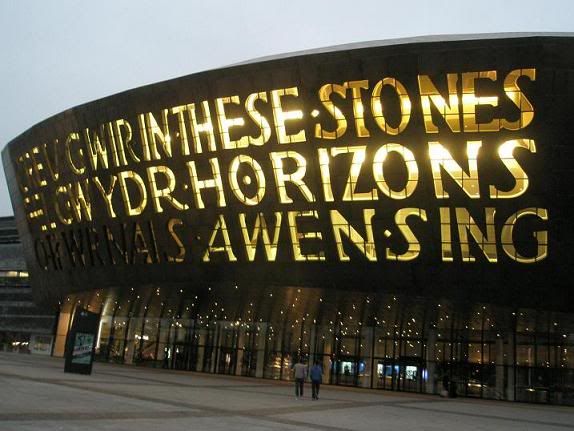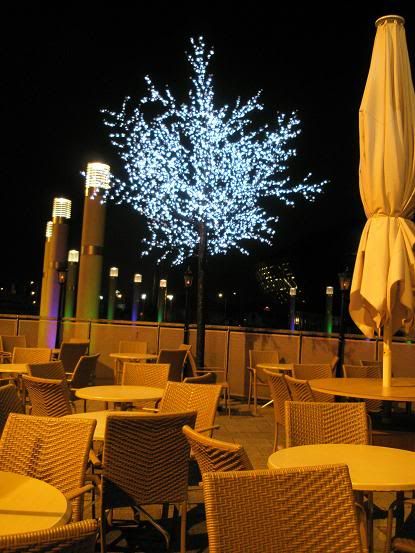 This is my brother on the kerb/curb which is the hidden elevator down to the Torchwood Hub. Unfortunately, we couldn't find the On-switch.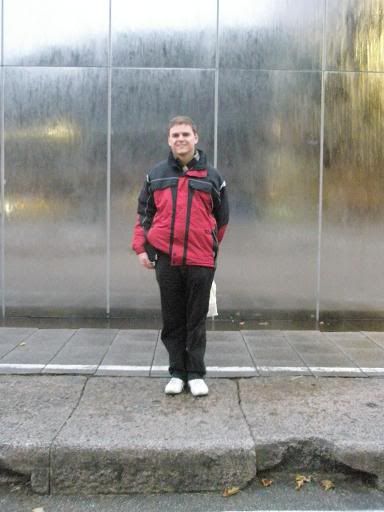 But the sky was grey and cloudy and it was getting dark already and we wanted a bite to eat. So we decided to come back another day. Since we had so nice scouts who arrived a day ahead of us, they led us straight to the American restaurant which I really loved. It was nicely decorated, some of the boots looked like a Cadillac, Elvis was singing on the TV, there was Marilyn and her blown up skirt, and the food also was plenty and good.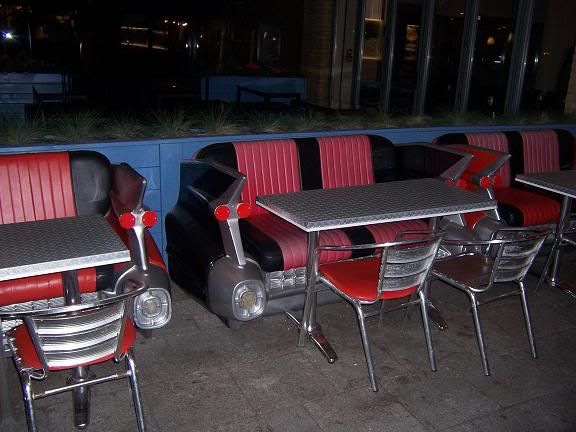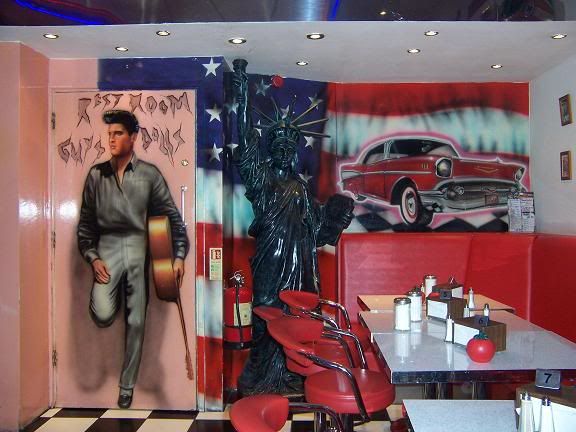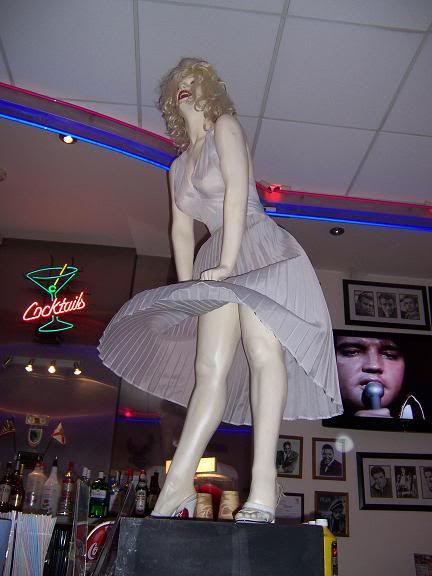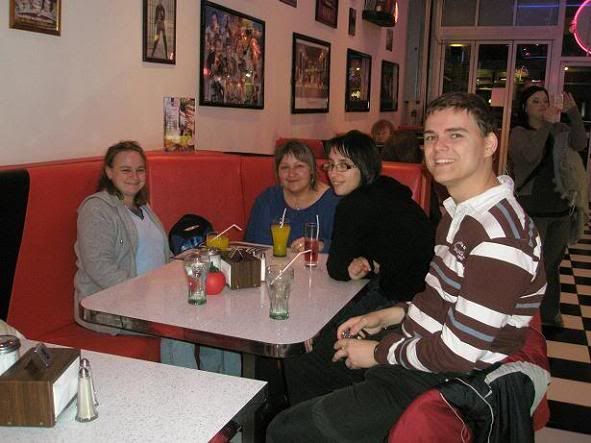 So we had a nice evening with much chatting and also did some planning, what to do during the next days. Then we said good night and headed to our hotels.


on to Part 2: pictures of St. Fagans - open air museum of Welsh life
.
.