Previously - Part 5: Opening ceremony with Richard Dean Anderson

Part 6: Q&A Dan Shea (Sergeant Siler/stunt coordinator/Rick's stuntman)

Rick had left to his first photo session and the stage was entered by Dan Shea who immediately started to make fun of Rick, that he, Dan, is in so much better shape and not out of breath after doing the two steps up onto the stage, and then he yelled: "And my cell phone is still on! It vibrates and it feels good!" Because Becky had told us to switch off cell phones, but he got calls from work all the time and needed it. He also wondered why he was doing the first talk, he thought that Rick should have had the honour doing it, since it was his weekend after all.

But we did not mind at all, laughing and then oogling when he started to do push-ups with his feet on the high chair – and with his shirt off. And you could see the work of his muscles very beautifully, if I might say so. He entertained us quite a while with this, telling us to count but then jumping ahead with the numbers. The only ones that did not join into the wolf whistles were the stewards at one side of the room. He asked them: "Are you bored?" ;) He also made fun of two blonde girls, twins, sitting in the first row right in front of him.



Here are two pictures of him, made by Su Sanne: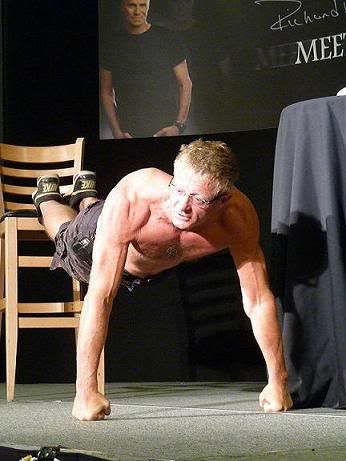 Then the question and answers started.

He told again the story with Wales and Wells, and that he flew 15 hours to get there, yet nobody thought of inviting him to Gatecon, which had been four weeks ago in the same town where he only needs five minutes to cross the river! They called him several times to ask what he wants for dinner, but never actually invited him, and he only learnt about the whole thing when a fan asked afterwards why he hadn't been there. He has no idea who ate his chicken in the end LOL

Dan and Rick met for the first time on the set of "MacGyver", for the episode where they play a lot of hockey. Dan had to wear a wig to match MacGyver's mullet. They even gave him green earrings so they later could photoshop in earlobes, since he obviously doesn't have any. It is incredible how much attention to detail they pay.

Somebody asked whether Rick really was hanging from the Lynn canyon bridge. Dan told us how he almost got an heart attack when finding out about this. Because usually the main hero of the show does this kind of things in front of a blue (back then) resp. green (nowadays) screen. But for some reason Dan was not there at this day and the director thought it would be quite cool to have Rick doing the stunt himself. Plus the harness they put him in was not a very save one, only a few thin wires, so it looks he was in quite some danger that day.

Dan himself also once was in danger, in the movie "In the eyes of a stranger" with Justine Bateman, and of course, Richard Dean Anderson. Maybe you will remember the scene at the end, with Rick's foot getting caught and getting sucked into this big machine. The director thought it would be fun to have Dan's foot really in a sling, to make it look more realistic. So he got drawn nearer and nearer to the machine, and then somebody should switch it off. Only, the button did not work, and Dan was really afraid of losing his foot and maybe more that day. Luckily, at the very last second they managed to pull the plug and stop the machine.

Dan's last words on stage were about Rick, that we should take care of him. "He still thinks he is MacGyver. Sometimes we take him to a fake set."


On to part 7: First Q&A with Richard Dean Anderson

.
.