Carole E. Barrowman, the sister of John Barrowman and co-author on their recent sci-fi novel "Hollow Earth", likes and has tweeted my action figure storie which I posted a few days ago. Since then the pictures got re-tweeted like crazy and there are also lots of feedbacks in my LJ.

Here's Carole's tweet: http://twitter.com/#!/BarrowmanCrime/status/172047699405844480

And here's the link to my story: http://dieastra.livejournal.com/38504.html

Waiting now for John to see it as well.




Edit:
Tweets from @OMaraBooks
http://twitter.com/#!/omarabooks/status/172311376772079617


http://twitter.com/#!/omarabooks/status/172354335458590721



Tweet from @Busterbooks
https://twitter.com/#!/Busterbooks/status/172354819082817536

https://www.facebook.com/permalink.php?story_fbid=396688280346600&id=376798468370

Topsy.com
http://topsy.com/dieastra.livejournal.com/38504.html

Torchwood Yahoo group
http://tv.groups.yahoo.com/group/torchwood/message/8092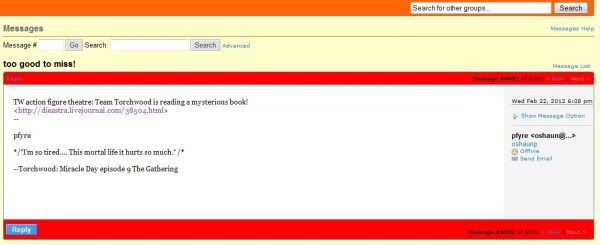 Insane Journal DoctorWho_LJ

insanejournal.com/doctorwho_lj/5604764.html%3Fmode%3Dreply+http://dieastra.livejournal.com/38504.html&cd=10&hl=de&ct=clnk&gl=de


http://twitter.com/#!/BarrowmanCrime/status/177107186349125632
https://www.facebook.com/photo.php?fbid=3480231732440&set=o.211262566799&type=1
http://twitter.com/#!/Busterbooks/status/177441569161486336
http://twitter.com/#!/CaroleGordon/status/177099044160684032