My first picture with John Barrowman on Saturday. Great that we both matched with the blue shirts! Although I brought a collection of other colors just in case LOL I was waiting for people to come out with their Torchwood group pictures and looked which color everyone was wearing.

After the picture was taken I asked John whether he could say something in German to me. Because at Hub7 he had suddenly said some German words on stage and I was impressed.

He started with "Ich bin..." and then giggled his JB giggle and said that he can't think of anything right now. He finally finished with "Ich bin... Hofbräuhaus" which I did not even understand till my friend explained it to me ;)

Anyway, here my first picture, and maybe next time I will remember to grab HIM instead of my own hands. Did the same at the picture at Hub7. What's wrong with me? *sigh*

But don't worry, many more nice pictures yet to come ;) I'll spread them out, one at a time, so they will last longer. There will also be a report about how I showed him my action figures. So stay tuned!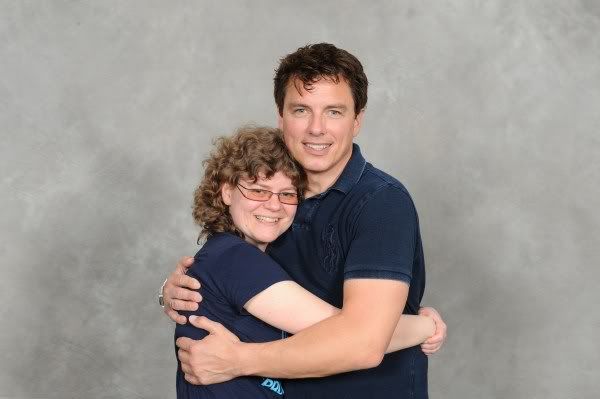 Tweeted at 15.05.2012 https://twitter.com/dieastra/status/202420441476902912