On special request of
saphirablue :

I guess you all know Kinder surprise eggs? JR Bourne said at one German City Con that he likes to put together the little plastic toys and of course then got some from fans the other day.

After my former homecountry Eastern Germany had vanished over night we also bought lots of those. For some reason, after the toys were built, I even kept the leftover plastic bits. I always had use for everything, because you never know when you might need it later.

Well, some time later I found the box and actually wanted to throw them away. Then something caught my eye. Didn't this part look exactly like a chicken foot? Suddenly my brain went into creativity mood, and I looked at the parts and the story they told to me, and thus created a picture. None of the plastic parts have been bent or otherwise shaped, they all remained exactly as they were.

Here you can see the chicken foot that started it all (at the right side):




The brown part actually reminded me of a palm tree, but since that would have not fit with the rest of the picture it became a regular tree. And look, there are even little mushrooms! And the black parts served well as a gate.




The long church tower also was set, and I even found grave crosses.




All the rest got made into clouds, mountains and a lake. And here is the whole picture to look at: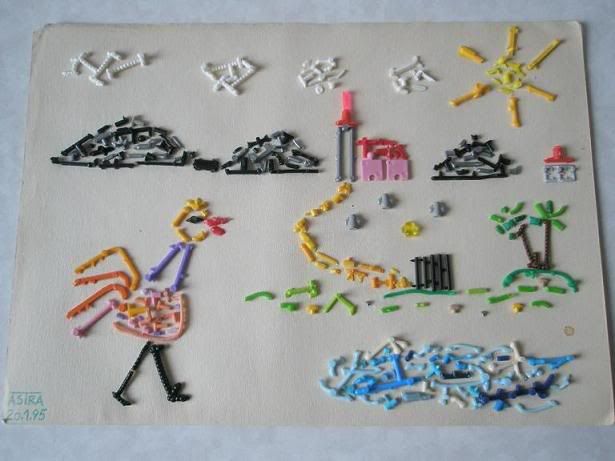 .
.