Back home from London and Glasgow, lots of stories to tell – the weekend was full with fireworks at the Thames, David Tennant and John Barrowman on stage, and watching "Sherlock" in TV. What a week.

We arrived in Glasgow on Wednesday, January the 1st. No panto show today, but I still had a fun evening, watching the first episode of season 3 of "Sherlock" together with friends in our hotel room, and laughing and crying and being touched and shouting: "No way!" and all of it several times. It was great! Well worth the wait of two years.

In Glasgow we also were greeted by these signs:




On Thursday at noon we went to the stage door but John took his time to arrive, and the group of people got bigger and bigger. I was afraid he would just go straight in, as it was getting late, but we still all got our autographs and pictures after he arrived. In a new car nobody recognized so nobody believed me when I said "that's him" – I had just recognized the rather fast driving style LOL

I hadn't really planned to, but as it happened, I stood in the front right where he started, so I was first. Oh my. I had the picture I did for the panto calendar boxes and a silver pen ready and our conversation was very deep: "This pen isn't working." – "Just sign it anyway." D'oh! LOL

He did his best: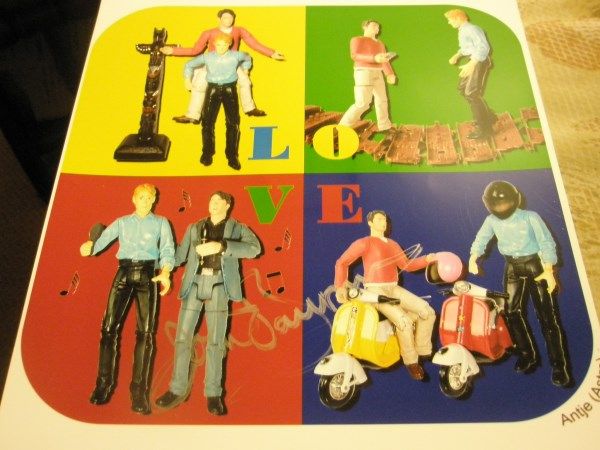 I told him it was my picture for the boxes, but since there were so many fans, there was not much time to explain anything about the picture in further detail, but he'll see it once he has emptied all his boxes and turns them around to see the other pics. I also gave him a printed copy of my action figure story where little John and Scott have little cubes .

And I asked if he had come to my gift already, the German car but he said no and "Don't spoiler it!" Ah well, that didn't go so well then, did it? Well, still many more days and evenings and shows to go to be able to try again.

This is my picture from that first afternoon:




More to come later!