And guess what? He actually was the reason I bought a ticket! I never had been to Fedcon before, never wanted to as I don't know all those "Star Trek" and "Star Wars" actors they usually get, and the only "Doctor Who" or "Stargate" actor amongst 30 other people was not enough for me to justify a ticket for a four-day-convention.

But for Colin Ferguson, who played Sheriff Carter in "Eureka" for those that don't know (and is in the fourth season of "Haven" now) I thought I'd try it out this one time only.

That was in October 2012, and in March 2013 John Barrowman got announced which was a huge surprise. And while everyone else scrambled to get a ticket, I could sit back totally relaxed. It was meant to happen!

I sadly missed the Eve Myles solo panel for this photoshoot, as they had changed times and we had to wait one hour longer than announced, but it was so worth it and I did not want to leave my space in the line at all: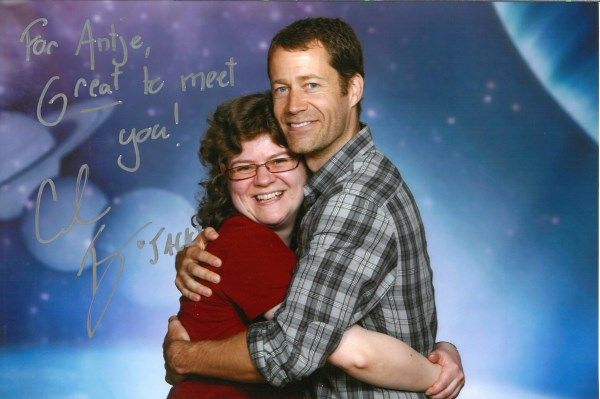 At the autograph table, there was a bit time to talk to him, and I told him that (at the time last May) we still had not seen the last five episodes of the last season in German TV. But he showed that he was well informed and knew that it would start the week after the con.